History of Endurance
As with most of the modern equestrian disciplines, Endurance riding has its origins in military training and practices. Long rides were often carried out by cavalry soldiers either through necessity (to fight wars or provide communications) or, in times of peace, to improve the fitness of horse and rider. As part of the training for army officers at the Remount and Veterinary Corp in Meerut, North India, officers were sent on rides to Delhi 70 kilometers away travelling at night and often arriving Delhi in the early hours of the morning.
The Mongols, who in their 200-year reign of terror extended their empire as far south as Delhi (the city was ransacked in 1398, not long before the decline of the empire), probably spent longer hours in the saddle than any other warriors in history, and certainly caused more destruction. It is said that they rarely left their horses' backs, conducting their business from the saddle and even sleeping in it. They travelled light, usually with three or four spare horses; covering up to 80 miles a day and living off dehydrated mares' curds carried in leather bags and raw horse meat which they soaked in brine and pressed under their saddles or in the seat of their trousers to soften. Years earlier, the nomadic Huns had practised the same custom, as Samuel Butler wrote: His countrymen the Huns Did stew their meat between their bums And the horses' back whereon they straddle, And every man eats up his saddle.This seems a less convincing theory if only because there were probably better ways of inflicting damage on an enemy in a surprise attack.In India the sport was taken up with enthusiasm by the British army during the colonial period, and during the first half of the 20th Century it was one of the most popular sporting activities of cavalrymen in India. Sometimes referred to as "Skill-at-Arms", the broader sport includes ring jousting (in which a galloping rider tries to pass the point of his weapon through a suspended ring), lemon sticking (in which the rider, again at a gallop, attempts to slice a lemon suspended from a rope), and quintain tilting, when a rider must spear a dummy through the heart.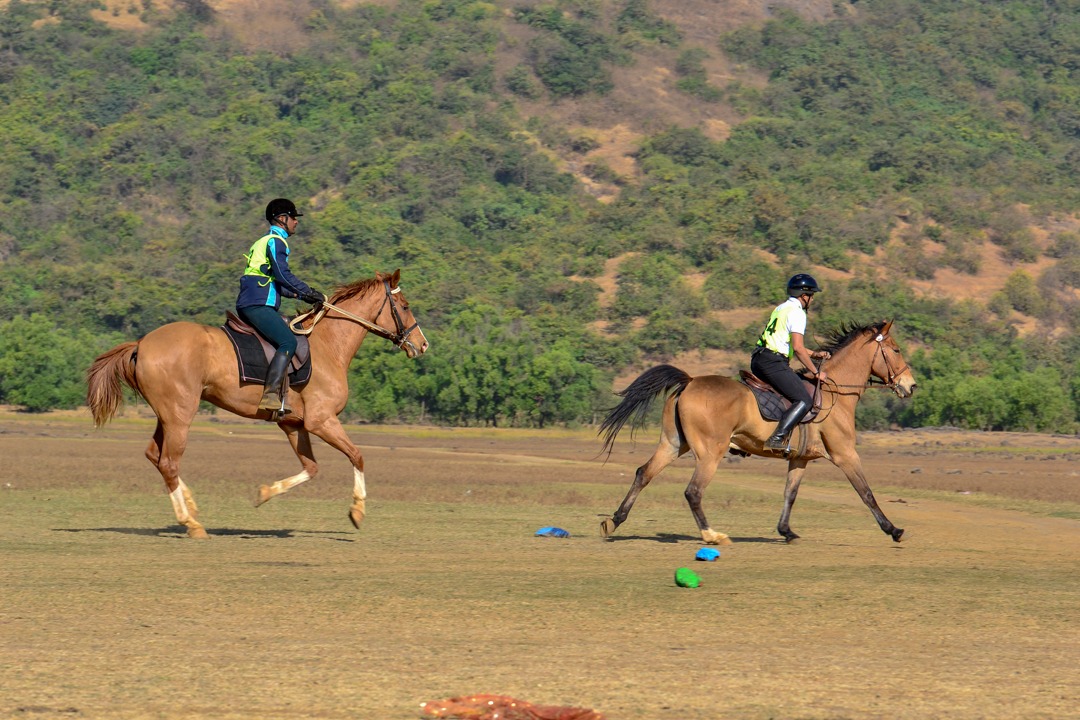 Not surprisingly, it was said that if the wind was in the right direction, a horde of Mongols could be smelt from 20 miles. To maintain control of their vast empire, they operated a very efficient courier system with relays of messengers galloping along caravan tracks. It is recorded that the system, established by Genghis Khan, involved some 200,000 horses and 10,000 buildings. As postal messenger could cover around 150 miles per day, sometimes more, changing horses en route, so that it was possible to receive the response of a divisional commander from a distance of 2,000 miles within a month of the message being sent. Whereas the Mongols had the advantage of traveling with spare horses, the sport of Endurance is carried out with just one horse, which must arrive at the finish of a competition in good enough condition to pass a final veterinary check. Military rides in Europe from the 17th Century onwards were conducted in a similar fashion, with just one horse, though it is unlikely they had any veterinary checks. Indeed, horses did sometime drop dead from their exhaustion. At the infamous Brussels to Ostend endurance ride of 1902, at which the winner completed the 132km course in approximately 7 hours, 16 of the 60 horses that started the competition died from exhaustion.
The FEI was initially reluctant to support this idea because, in order for Tent Pegging to be included in the Asian Games, it would have to become an official FEI sport. However, after a successful demonstration of Tent Pegging to HRH Prince Phillip, President of the FEI at that time, who visited Delhi in 1981, India's "new" sport was presented to the FEI delegates and its inclusion eventually got the go ahead.
PRESENT FORM OF THE DISCIPLINE
Endurance is a long-distance competition against the clock testing the speed and endurance of a horse and challenging the rider over their effective use of pace, thorough knowledge of their horse's capabilities and ability to cross all kinds of terrain. It is one of the international competitions recognized by the FEI. There are endurance rides worldwide. There are two main types of long-distance riding, competitive trail riding and endurance rides.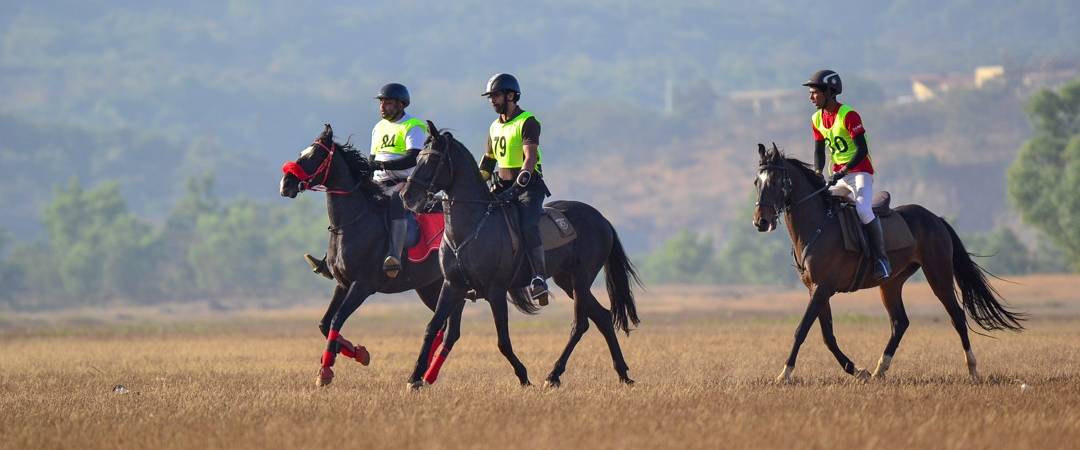 Each rider must safely manage the stamina and fitness of their horse and each course is divided into phases – in principle at least every 40km – with a compulsory halt for a veterinary inspection, or 'vet gate', after each. Each horse must be presented for inspection within a set time of reaching each 'vet gate', which determines whether it is fit to continue. The third phase is the cross country where a course of natural obstacles, normally over several miles, has to be jumped within a time allowed. Being over the time incurs penalties as do stops and falls. However, being under the time is of no benefit as it will often tire a horse unnecessarily. A good cross country horse must be bold and straight as well as fast.
COMPETITION AND SCORING
The winner is the rider who finish in the fastest time, with a horse in good condition. Excessive fatigue, signs of lameness and other indications of problems are grounds for elimination. Each competitor is given a map in advance showing the route of the course and the location of any compulsory halts or naturally occurring obstacles such as a ditch, steep, climb, descent or water crossing called hazards. Hazards are marked by red and white boundary flags and are left in their natural state as much as possible. Riders are free to choose their own pace between the start and the finish of the competition. They may lead or follow their horses, but must be mounted crossing the starting line and the finish line.