The first recorded show jumping competitions in the world were held in 1864 in Dublin, Ireland, as part of a trial horse show. High Jump and Wide Leap classes were included in the show, primarily to test the ability of hunters, and these classes became very popular. Soon, other horse shows were founded in Europe and the USA: for example, the famous show at Madison Square Gardens, New York, started in 1883. The High Jump was a particular favourite among spectators and some impressive heights were achieved. In 1902 an unofficial high jump record was set by the American Dick Donnelly riding Heatherbloom, who cleared a staggering 2.515 metres (8ft 3ins) at a public demonstration in Richmond, Virginia (there is a photograph of him achieving this feat in the Guinness Book of Show Jumping). By the early 20th Century the sport of show jumping was gaining momentum worldwide, including in India, It became an Olympic sport for the first time in 1912, in Stockholm. The team competition (Nations Cup) was won by Sweden, and the Frenchman, Jean Cariou, riding Mignon, won the individual gold medal. Show jumping in India took place at horse shows in Calcutta, Delhi and other cities. The shows would usually include gymkhana races, equitation classes and tent pegging, as well Show Jumping classes.
Initially it was the British cavalry officers (and often their wives and children) who took part in the jumping competitions, but Indian cavalrymen also began to take it up, and rivalry between regiments was intense. The Army Service Corps had some particularly talented riders who began to dominate. The equestrian scene after Independence. The 1954 National Show Jumping Championship was won by Risaldar Dhup Singh, astride Raja, and the President, Dr Rajendra Prasad personally presented him with the trophy. In 1961 Naik Hari Ram, with his two horses Chetak and Patak, won practically every prize at the Delhi Horse Show and went on to win both the Natonal Jumping and the National Tent Pegging championships. It was after these spectacular victories that the rules were changed to prevent riders fielding the same horse in too many events. As Indian riders became more successful in show jumping they were keen to test their skills on the international scene, but the FEI (International Equestrian Federation), the world's governing body for equestrian sports, would not accept Indian riders at foreign shows unless they were sent by their own national federation. As India had never had a federation, moves were soon made to rectify the matter and the Equestrian Federation of India was founded in 1967. Shows around the country became affiliated to the EFI, and ran their jumping classes under a common system of rules and regulations.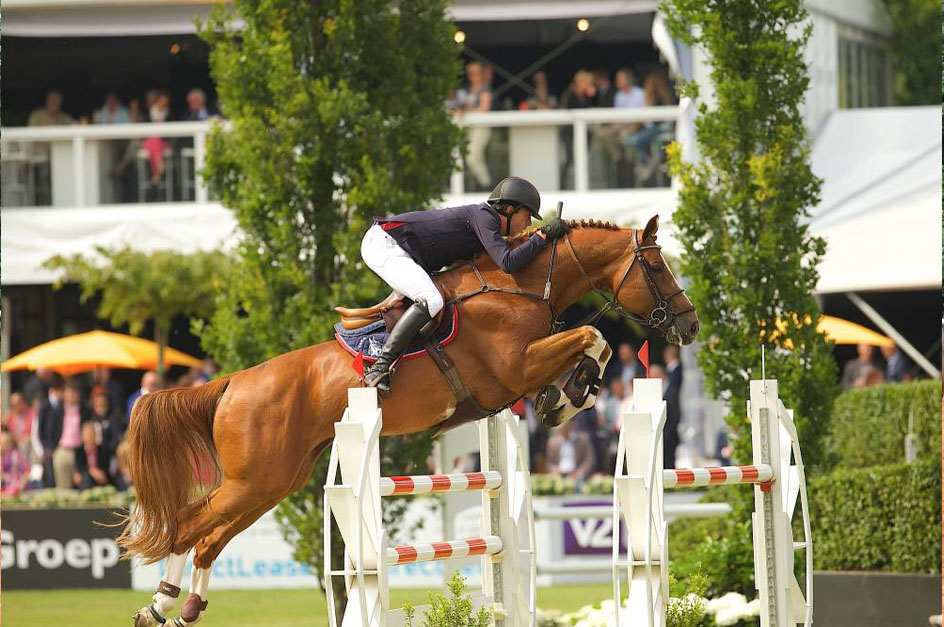 PRESENT FORM OF THE DISCIPLINE
Show jumping is a sport for horses and riders which tests the horse's ability to jump over a course of fences at a pre determined pace. Show Jumping is one of the three Olympic equestrian disciplines, with Eventing and Dressage. In addition to existing as a standalone discipline, it is also integrated into many combination competitions, such as the modern pentathlon and eventing. In a show jumping event, the stamina, speed, and flexibility of the horse are tested, along with the relationship that the horse has with its rider. Competition rankings are determined by the number of faults accumulated and the overall speed with which the course is completed. Depending on the style of show jumping, the course may be made simple or complex.

The highest level, called Grand Prix, features complex and intimidating obstacles which include a wide spread, meaning that the horse has to jump high and long, and obstacles like hedges and ditches. In addition, the arrangement of the jumps determines the difficulty of the course. Grand Prix show jumping typically involves jumps set at strange angles, requiring horses to be quick on their feet, or jumps at awkward distances which require the horse to be skilled and adaptable. Traditionally, the rider walks the course before riding it, so that he or she is aware of the layout.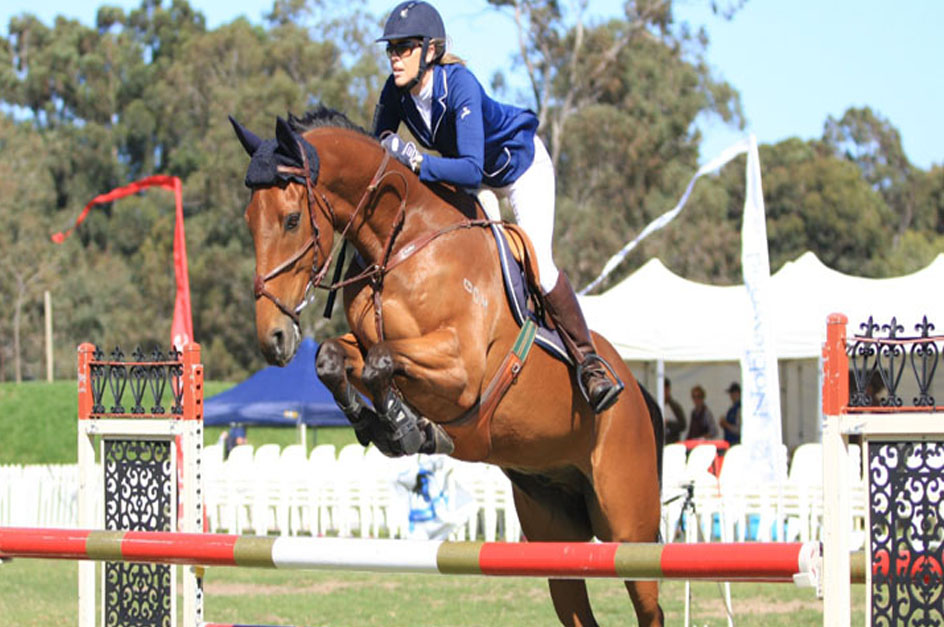 Verticals : An upright jump, verticals can be hard for the horse to judge.
Oxers : Sometimes also called "spreads," oxers consist of two verticals placed at certain length apart to add both height and width to a fence.
Triple bars : Triple bars are comprised of three verticals placed together. The first vertical will have the lowest height while the next two verticals will gradually increase in height. Triple bars, although they appear wide and imposing, are fairly easy for horses to judge.
Liverpools : Liverpools look like a pool of water on the ground. Liverpools can be placed under a fence or on their own.
Combinations : A "Combination" is the term used to describe a group of fences that are placed in close sequence to one another, usually one to two strides apart. Combinations can be made up of both verticals and oxers.
Verticals : An upright jump, verticals can be hard for the horse to judge.
Walls : Walls are upright and solid, but are made in such a manner that if a horse hits them a piece of the wall will fall.
CATEGORIES :- In India, we have the following categories of Show Jumping competitions :-
Preliminary
Novice
Grade III / Medium Grade
Grade II / Intermediate Grade
Grade I / Advance Grade
Grand Prix
SPECIFICATION OF THE SHOW JUMPING COURSE
Grade
Height (Min)
Height (Max)
Spread Max
Speed Per Min
No of Round
No of Jumps
PRELIMINARY
(Only at Regional Shows)
0.90
1.05
1.20
325 M
Two
Max 14 obstacles. One double combination of height not exceeding 95Cm and spread not exceeding 110Cm
NOVICE
1.00
1.10
1.25
350 M
Two
Max 14 obstacles. Two double combination in each round. Liverpool compulsory.
GRADE III/Medium
1.10
1.20
1.40
350 M
Two
Max 14 obstacles with one triple and one double combination or three double combinations in each round.Liverpool compulsory.
GRADE II/Intermediate
1.20
1.30
1.50
350 M
Two
Max 14 obstacles with one triple and one double combination or three double combinations in each round.Liverpool compulsory.
GRADE I/Advance
1.30
1.40
1.60
375 M
Two
Max 14 obstacles with one triple and one double combination or three double combinations in each round.Liverpool compulsory.
Grand Prix
1.35
1.50
1.70
375 M
Two
-do-
Top Score Competitions Max height of JOKER will not be more than 15 cm higher than the maximum height of that grade. The JOKER will compulsorily be a VERTICAL fence.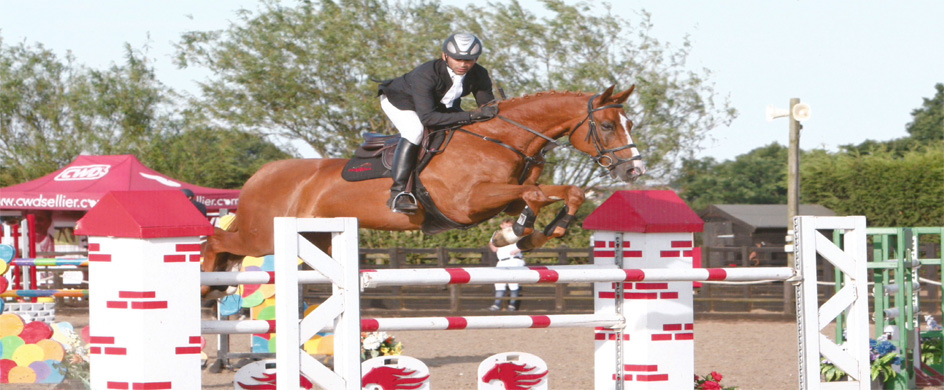 The scoring for Jumping is based on a penalty system, and none of the competitors are judged subjectively. The best possible score in the competition is zero penalty points (faults), which is known as a clear round. A clear round means the rider has completed the course within the time allowed and without incurring any penalty points. A fault is a point in show jumping which counts against the horse and rider team. Faults can be accumulated in a number of ways, and it is rare for a course to be completed flawlessly. If a horse kicks or knocks down a jump, this is considered a fault. Likewise if a horse refuses or walks away from a jump. If a horse destroys a jump, the timer will be halted until the jump can be fixed, and if a horse refuses twice, the pair will be disqualified from the competition.

If a horse knocks a fence they incur four faults. If they refuse at a fence they incur four faults. If a horse refuses to attempt to jump a particular fence two times, they are eliminated. Riders are normally required to jump around the course within a set time. If they fail to do this they incur time faults at a rate of 0.25 point per second over the time. There are also specified speed classes where if riders finish on equality of faults the rider with the fastest time wins the class. If the horse or the competitor falls, they are eliminated. Horses and riders who jump their first round clear will be able to continue to the "jump off." In the jump off, the course is shortened and the horse and rider that completes the course the fastest and with the least amount of penalties wins the competition.